City of Memphis – Beale Street Tunica Pickup
Description:
Our professional, humorous guide will help you discover:
Downtown Memphis
The "Mighty" Mississippi
Beale Street (Stop to see the World Famous "Home of the Blues")
Cotton Row (Where Cotton is STILL King)
Victorian VIllage (Homes constructed in the early 1800s)
I-40 Welcome Center (stop to see the two Kings, B.B. King and Elvis Presley)
Lorraine Motel (The site of Dr. Martin Luther King Jr.'s assassination)
St. Jude Children's Hospital (Stop at the pavilion where Danny Thomas is entombed)
Graceland
Peabody Hotel (Stop to see the March of the World Famous Ducks)
Sun Studio
Memphis Pyramid/Bass Pro Shop
FedEx Forum
Tickets:
Adult: $70
Child: $60
Length:
7 hours including leisure time on Beale Street
Departs:
Departs daily from ticket office at approximately 10:00 a.m.
Tours include transportation from most hotels to our ticket office.
Advance purchase highly recommended!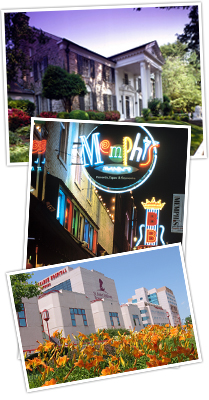 In operation since 1988, Blues City Tours is your guide to Graceland,
the Tunica Casinos and much more!


Reservations / Information – 24 Hour Hotline – Memphis, TN: 901.522.9229
Blues City Tours reserves the right to change/cancel Tours without notice.
Member of: Memphis Better Business Bureau, Mid-South Chamber of Commerce, Tunica Chamber of Commerce, Tunica Convention and Visitors Bureau, Memphis Convention and Visitors Bureau, Recommended by: AAA, Licensed by: the TN Public Service Commission
© 2016 Blues City Tours