Memphis Music Tour
Description:
Transportation only. Ask about our group rate with tickets included.
Stop off at three locations:
Stax Museum of American Soul Music (Closed on Mondays)
Memphis Rock 'N Soul Museum
Sun Studio – The birthplace of Rock 'N Roll!
Tickets:
Adult: $26
Children: $21
Length:
Approx 3.5 hour
Departs:
Departs daily from ticket office at approximately 10:00 A.M.
Advance purchase highly recommended!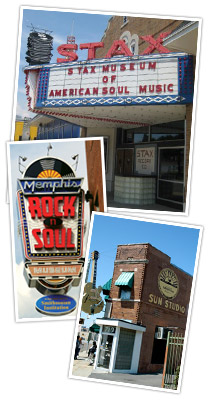 In operation since 1988, Blues City Tours is your guide to Graceland,
the Tunica Casinos and much more!


Reservations / Information – 24 Hour Hotline – Memphis, TN: 901.522.9229
Blues City Tours reserves the right to change/cancel Tours without notice.
Member of: Memphis Better Business Bureau, Mid-South Chamber of Commerce, Tunica Chamber of Commerce, Tunica Convention and Visitors Bureau, Memphis Convention and Visitors Bureau, Recommended by: AAA, Licensed by: the TN Public Service Commission
© 2016 Blues City Tours